Hello Beautiful! Do you have hyperpigmentation? If so there is a good chance you already know about and use these magical products from Civant. You've probably seen or read about in popular magazines like Shape, Allure, Health, InStyle, and Woman's Daily. If the name is new to you read on!
Founded In 1999 with the mission to develop an effective stand alone product for hyper-pigmentation. Now in 2021 they are building on the success of Meladerm by creating an entire line of products that can be used to establish a hydrating, nourishing, and brightening daily skin care routine.
Now trusted for over 20 years. Their philosophy is simple – to create effective products that you can feel good about putting on your skin. All of their formulas are cruelty free and vegan. They don't use hydroquinone, parabens, mineral oil, petrolatum, sulfates or phthalates. Additionally every purchase comes with a 30 day money back guarantee! 
What is Hydroquinone and is it harmful?
Literally every other product on the market designed to reduce hyper-pigmentation contains hydroquinone but what is it and why did Civant decide to create a whole range of products that are hydroquinone free?
Well Hydroquinone literally bleaches your skin by decreasing the number of melanocytes present. Melanocytes make melanin, which is what produces your skin tone. In cases of hyperpigmentation, more melanin is present due to an increase in melanocyte production. By controlling these melanocytes, your skin will become more evenly toned over time.
Historically, there's been some back-and-forth on the safety of hydroquinone. To date, hydroquinone is deemed safe in the United States. There isn't any clinical evidence currently to suggest that hydroquinone is harmful to humans. However, minor side effects are still possible. It may cause a temporary uptick in redness or dryness at first, especially if you have sensitive skin. These effects should fade as your skin becomes used to the product.
In rare cases, hydroquinone has caused a condition called ochronosis. It's marked by papules and bluish-black pigmentation. This can occur after prolonged daily use. As such, you shouldn't use products with this ingredient for more than five months at a time.
So bearing this in mind you can see why many are reluctant to use a product that can be potentially harmful to them. That's why Civant created a product to have the same results on hyper-pigmentation without containing any hydroquinone.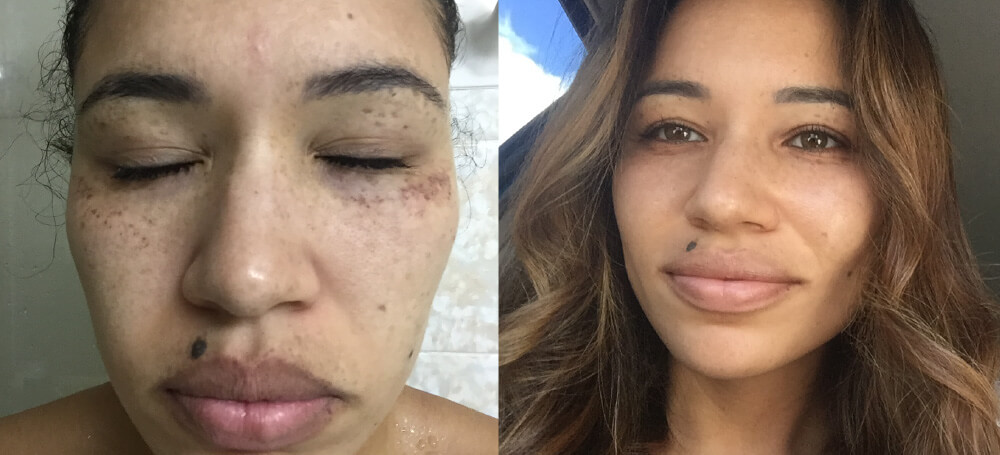 The Best Selling Products
Civant Moisturizer

$

28.00

Aloe vera, hyaluronic acid, argan oil, vitamin E—we've packed our non-greasy daily moisturizer with ingredients beneficial for all skin types.

Shop Now
Civant Purifying Toner

$

24.00

This toner is like a primer for the other skin care products. Glycolic, salicylic, and kojic acids help to gently remove dead skin while restoring the skin's natural pH.

Shop Now
Civant Advanced Daily Care Kit

$

195.00

Advanced Daily Care Kit includes three daily-use serums that brighten and smooth the skin, in addition to everyday essentials for healthy, hydrated skin.

Shop Now
Civant Starter Brightening Kit

$

150.00

Cleanse, tone, and then diminish the appearance of dark spots and uneven skin tone with this kit for daily use. Includes our best seller, Meladerm®.

Shop Now
Civant Advanced Brightening Kit

$

250.00

Potent serums boost the brightening capacity of this kit while deep-cleansing and protecting the skin as part of a comprehensive daily routine. Includes our best seller, Meladerm®.

Shop Now
So there you have it! The holy grail of skincare products for hyper-pigmentation and scars. Click on the link below or any of the products to be directed to their website and try it out for yourself! Remember there is a 30 day money back guarantee with all of their products. No company does that unless they know their customers will be very happy with their purchase!