People often overlook the importance of using the best shampoo for your hair type. But to achieve your best results, it is essential to ensure that you give your hair and scalp exactly what they need. Selecting the wrong shampoo can be the difference between having model hair and a having a bad hair day.
Although shampoo is used primarily to remove dirt, product build up, and oils, this part of your hair routine can do so much more. You need a shampoo that will work both with and for your hair and scalp. For example, if you have dry hair, you should not use a shampoo that will strip your hair of its natural oils and cause your hair to become drier.
"But what is the best shampoo for my hair type?", you might be asking by now.
Well, read on.
We'll help you find out what your hair type is, give you some valuable hair care tips and recommend just the right shampoos for your hair type. And hopefully save you more than a few bad hair days!
What is My Hair Type? How to Identify Your Hair Type
If you want to identify your hair type, first pay attention to how your hair and scalp feels. Does it feel dry or oily? Do you notice that your hair lacks volume and looks a little thin? You'll also want to take into account its curliness and texture.
Figure out what your hair type is, but keep in mind, that doesn't mean that your hair type will remain the same forever. Also, you may have a combination of hair types—more than one type of curl for instance.
Here's the FIA hair classification system (although there are plenty of others):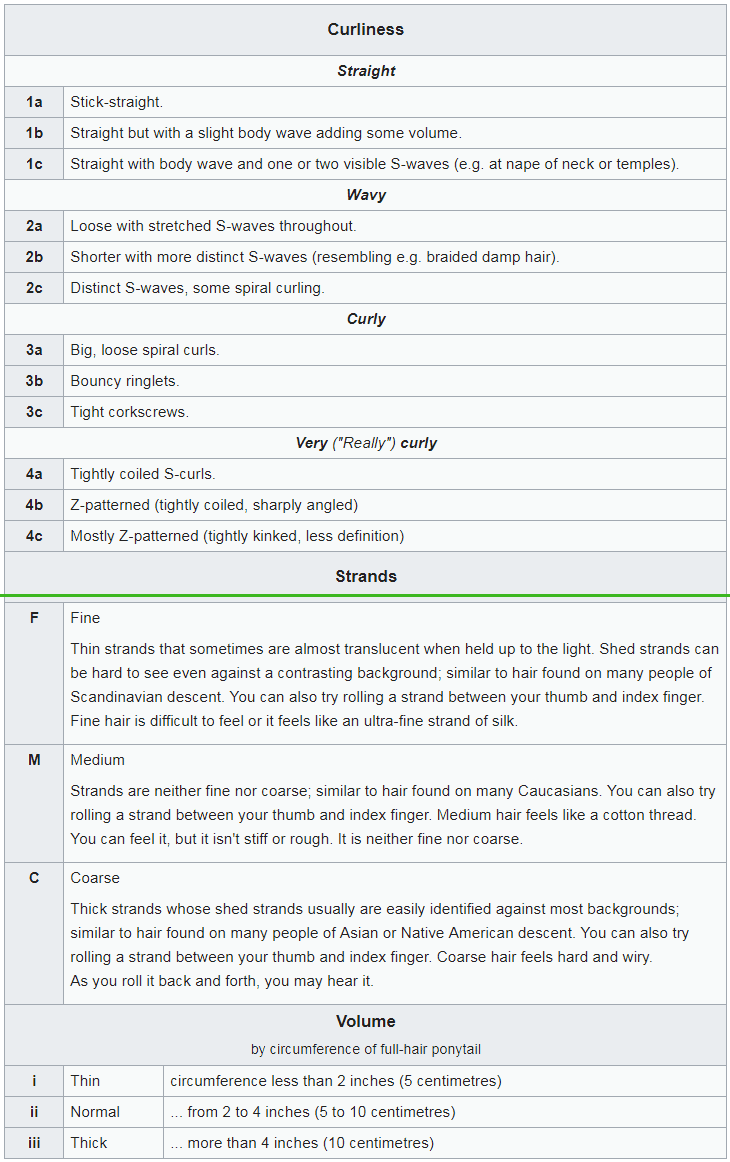 Hair type may change with your age, stress level, and even the weather, i.e. cooler weather can often cause your hair and scalp to become dry just as your skin does. It is best to check in with how your hair is responding to your current routines and products to be certain that you are taking the best possible care of your hair.
What is the Best Shampoo for My Hair Type? How to Choose
Now that you know how to identify your hair type, you need to pick the best products to keep your hair looking gorgeous. But with all of the products available, where do you start? Don't worry we have you covered. Here are the best shampoos for your hair type with some hair care tips thrown in.
Best Shampoo for Fine Hair
Have you noticed that your hair looks thin and lacks volume? Then you probably have fine hair. Fine hair is more likely to look oily because product build up is more visible on it.  Also, when hair products are not evenly distributed through this hair type it can appear oily.
Look for the best shampoo for fine hair (that link goes to our dedicated article), and avoid those meant to moisturize and have a creamy consistency. Fine hair benefits from shampoos that cleanse gently and can be used frequently.
Shampoos that use language such as volumizing and lightweight will probably be good choices for your hair. Your goal is to try to create body and to thicken your hair without weighing it down.
*MEN'S HAIR CARE TIP: Use matte styling products for thinning hair. This makes your hair look thicker and makes your hair easier to manage. However, using a shampoo that is too heavy, will leave your hair looking stringy, oily, and dirty. Read the ingredients list and make sure there are ingredients that will help your hair build body. One ingredient to look for is panthenol, which enters the hair cuticle to make each strand thicker and more voluminous.
*HAIR CARE TIP: To keep oil and buildup away in between washes, keep dry shampoo on hand. Not only will this help absorb oil but it will also add body to your hair and give your styles more longevity.
This shampoo has great ingredients for healthy hair growth, allowing your locks to grow thicker and stronger. Vitamins B7 and Biotin help nurture hair follicles while collagen plumps each strand of your hair. The additional ingredients of hydrolyzed wheat proteins strengthens your hair with each wash and prevents it from appearing limp and lifeless. This shampoo will have your hair looking full and voluminous. As with all OGX products, this shampoo offers you salon quality results at a lower price.
Looking for a thickening shampoo that will give you the volume of a beauty pageant queen? Give this shampoo from Kevin Murphy a try. This is one of the best shampoos available for fine hair. It gives you tons of volume and stimulates hair growth. With great ingredients like nettle extract and ginger root extract, your hair will look voluminous while reducing your risk of hair loss by stimulating hair follicles and reducing the DHT, the hormone that causes hair loss. The plumping wash cleanses and exfoliates the scalp to ensure that there is no product build up left behind. This is definitely a shampoo that you will want to test out to if you want to plump up your fine hair.
Best Shampoo for Dry Scalp
Having a dry scalp is a very uncomfortable condition to deal with, however, it is usually easily fixed. When your scalp is dry, it may become itchy and dead skin cells may begin to flake off. This is caused by a number of things. Oftentimes, it requires a quick swap of the products you are using.
Make sure the ingredients are not drying out your scalp. The best shampoos for a dry scalp (follow link for a longer roundup) will not include sodium laureth sulfate and sodium lauryl sulfate, as these strip your hair and scalp of their natural oils. Also, avoid products that contain silicone and resin, often found in straightening products and hairsprays. These ingredients clog the hair follicles, blocking your natural oils from being produced on your scalp. Weather is another thing to consider when you notice your scalp becoming dry.
Just like the skin on your face and hands, your scalp may become dry during the winter months as well. If this is the case, switching your products as the seasons change may be the solution. In some cases, skin diseases such as psoriasis can be the culprit of a dry scalp. This should be treated by your dermatologist or doctor. Dandruff is another cause of a dry scalp. This occurs when your body has a reaction to a naturally occurring fungus on the scalp, pityrosporum ovale, which leaves dead skin cells. These dead skin cells result in the embarrassing white flakes associated with dandruff.
This exfoliating shampoo from Aveda will remove all the dead skin, oil, and product build up that is irritating or clogging your hair follicles. Salicylic acid gently exfoliates the scalp without causing the scalp to become drier. Milk thistle and millet seed helps to stabilize the scalp's lipid balance to make sure it is properly moisturized. This shampoo is a great first step to get your scalp ready to absorb the most moisture from your conditioner, mask, and other products you will use after your shampoo.
If you are suffering from dandruff, this shampoo is the solution you are looking for. It has a botanical blend of Guyana wood and black pepper to detoxify the scalp and reduce flaking. Phyto added sophora japonica extract, which regenerates your skin's natural barrier to hold moisture. A well moisturized scalp helps stop the formation of new flakes. It also contains ingredients that help add moisture and shine to your hair. This gentle, exfoliating shampoo is the perfect addition to your hair care routine if you are looking to kick your dandruff to the curb.
Best Shampoo for Dry Hair
Believe it or not, dry hair can happen to any hair texture. Unfortunately, it is more commonly found in coarse and curly hair because the texture of the hair does not allow the oils from the scalp to travel down the hair shaft as easily as straight hair. The best shampoos for dry hair are very moisturizing and creamy. Some hydrating ingredients to look for are coconut oil, almond oil, olive oil, shea butter, and argan oil.
*HAIR CARE TIP: Do not wash your hair too often. Try to limit yourself to washing every other or every three days. Washing your hair everyday will dehydrate your hair and cause your hair to become frizzy, weak, and brittle. If you feel like your scalp getting oily, try co-washing. This is a technique where you wash with a cleansing conditioner instead of a shampoo. This is a great solution for those that feel like they need to wash more often, but do not want to dry out their hair.
When selecting shampoos, look for something that will nourish your hair from root to tip. You do not want something that will just coat your hair using harsh ingredients. This may look good for a day or two, but those harsh ingredients will end up doing more harm than good in the long run.  The weather is another important factor.  Just as the cooler weather causes your scalp to become drier, your hair becomes more dry in fall and winter as well. You may need to switch your haircare routine up for the colder months.
*HAIR CARE TIP: Shampoo alone will not restore hydration to your hair, remember that it is only a good start. For best results, you must follow your shampoo with a moisturizing conditioner, mask, oil, and other nourishing hair care products.
Does your hair seem thirsty? Moroccanoil Moisture Repair will help to rehydrate your locks. This shampoo works to restore moisture to your hair and scalp. It is filled with keratin, the protein found in hair, which helps it become stronger, because dry hair is often more prone to damage. There is also argan oil and fatty acids to keep your hair healthy and shiny. This shampoo is also free of all of the drying ingredients that strip your hair of its natural oils. The Moisture Repair Shampoo is a great first step to rejuvenate your dry hair.
This hydrating shampoo from Biolage gently cleans your hair without drying it out and adds moisture to your dry tresses. It can give you up to 15x more hydration in just one use. Hydrasource mimics the moisture storing properties of the aloe vera plant to help restore balance and moisture to your hair. It helps to restore your hair and fix current damage, while preventing any future damage from occurring. Hair will be softer and more manageable after using this product, helping you to achieve the hair of your dreams.
Best Shampoo for Oily Hair
Alternately, oily hair is a problem some people think they can never solve, but choosing the right shampoo to treat oily is an easy solution. When trying to find the best shampoo for oily hair look at the products you are using to ensure that they are not making your problem worse. Are you using anything that is stimulating more oil production? The sebaceous gland is responsible for your scalp's hydration needs, but it can also over produce oil, causing oily hair. This causes your hair to look dirty and greasy. Sometimes the sebaceous glands over produces due to a hormone change during puberty, pregnancy, or starting birth control. An irritated scalp can also cause this reaction.
*HAIR CARE TIP: Do not shampoo your hair too frequently or with overly harsh products. This causes your scalp to become dry and actually result in more oil being produced. Use dry shampoo to help absorb oil in between washes. The best shampoos for oily hair will use language like "clarifying" or "deep cleansing" on the label. This indicates that they should get rid of any excess oil that your hair and scalp do not need. Look for ingredients like citrus extracts will gently break down any oil or product build up.
This anti-residue shampoo is not meant for everyday use but is actually a once a week deep cleansing treatment. It removes product build up and oil to keep your hair and scalp clean and healthy. This will also help to add some volume to your hair, perfect if you find that your hair is looking a little flat. It is a clear shampoo with a fresh scent and is meant for all hair types. If you are looking for a once a week treatment to really deep clean your hair and scalp, this shampoo is for you.
Fekkai uses the natural cleansing and clarifying power of apple cider vinegar in this shampoo to keep your hair from becoming too oily. Don't worry it doesn't smell like apple cider vinegar. This shampoo has a pleasant scent of pears and apples. It also contains wheat and oat proteins to moisturize and soften your hair.  Vitamins A and E are antioxidants included on the ingredients list to keep your scalp balanced and healthy. Although it can give you a deep clean, it is a gentle formula that can even be used on those with color treated hair. This is a great option for those looking for deep clean that is not too harsh.
Best Shampoo for Color-Treated Hair
Many of us with color treated hair face the challenge of keeping their hair healthy while still maintaining a vibrant color. The best shampoos for color treated hair will extend how long your color lasts and enhance your color without leaving any build up or residue. You spend a lot of money to get your hair colored, so you want to use products that are going to help it last.
*HAIR CARE TIP: Rinse your hair with cold water before getting out of the shower to close the cuticle of the hair This will lock pigment in and help your hair color to appear more vibrant.
Much of the time, color-treated hair is drier and more prone to breakage due to the chemicals that have been used on it. If this is the case, look for something that is moisturizing to avoid further damage. At home color, even if applied correctly, damages the hair. Look for language like "repairing" on your color safe products if you notice any damage has been done. Stay away from sulfates, as they strip the hair color along with oils from your hair.
This shampoo is formulated to protect and extend the life of your hair color. Arvazallia combines ingredients that cleanse, hydrate, and moisturize without stripping away your beautiful hair color. It also helps repair any damage that may have been caused by coloring treatments. With nourishing moroccan and argan oil, your hair will be left healthy and radiant after each use.
Your color is safe and secure with the Nexxus Color Assure Shampoo. This product is meant to provide your hair with the nutrients it needs while protecting and enhancing your hair color. It gently cleanses and infuses protein in your hair to keep it clean, strong, and healthy. This shampoo locks in your color and protects it from fading. It contains antioxidants and UV protectors to give your hair color longevity. Color Assure will leave your hair radiant and vibrant.
Best Shampoo for Curly Hair
Unfortunately, curly hair is often the hardest to take care of. Everyone has a different curl pattern (see below), and usually curly hair is drier and requires more careful choice of product. Curly hair tends to be more dry because the curls prevent the natural oils that are produced by your scalp from reaching all of your hair. The lack of hydration then causes your curly hair to be brittle and more susceptible to breakage.
The best shampoos for curly hair are oil based and creamy. The ingredients list should include things like aloe vera, shea butter, olive oil, etc. Hydrating oils will give your curls a softer look and help them to look refreshed. They also make detangling the hair an easier process. Again, avoid sulfates because they will dry your hair out more.
*HAIR CARE TIP: You may want to use a cleaning cream or a cleansing conditioner to keep your curls as hydrated as possible.
Are you looking for an all-natural shampoo that provides your hair with tons of nutrients and hydration? This is the perfect shampoo for those with curly hair! Although this shampoo can be used on all hair types, it is highly recommended for our curly haired friends. It gently cleanses your hair while giving your hair intense hydration with Moroccan argan oil and jojoba oil. This oil also helps to rejuvenate damaged and weak hair, which is another plus. The addition of almond and avocado oil tames frizz and prevent split ends. If you want an all-natural product that will still nourish your curls, give this shampoo a try.
Cleansing your hair with an oil may sound crazy, but this cleansing oil from Ouidad removes debris and product build up while keeping your hair moisturized. This cleanser is water activated and is meant for those with dry and damaged hair. It is filled with nourishing ingredients like mafura butter and melon seed oil to help restore damaged hair. After use your hair is left soft, silky, and moisturized. This is a great alternative to traditional shampoo for those who have very dry, damaged, curly hair.
Best Shampoo for Men
Although most men will just use whatever shampoo they find in the shower, there is not a one size fits all men's shampoo. When choosing the best shampoo for men's hair you have to consider the same things that you would consider for a woman. Think about your hair and scalp type.
*MEN'S HAIR CARE TIP: Are you unsure of your hair type? Ask your stylist or barber. Try to book their first or last appointment of the day to get their undivided attention.
One thing to consider is that men's skin is slightly different than women's, it is usually thicker. This means products meant for the scalp may have to be stronger in order penetrate as well. In most cases though, men can use the same products as women. But men usually don't put as much thought into their haircare routine as women do. These two shampoos for men are great for all hair types and are meant for men.
This invigorating shampoo has a scent that will help you wake up in the morning. The refreshing scent of mint is not only pleasant, but it also helps to stimulate the scalp. This shampoo is formulated with nourishing vitamins and proteins to keep your hair strong and healthy. It also helps to maintain balanced moisture on your scalp. This shampoo is great for all hair types and will work well for basic needs.
This shampoo is also meant to work for all hair types and has the stimulating ingredient of tea tree. This will awaken your senses and benefit your hair. It is great for those with dry scalp and dandruff specifically. They also advertise how the relaxing scent helps to clear your mind. Krieger and Sohne also pride themselves on being paraben and cruelty free. They also offer a money back guarantee if you are not satisfied with their product. So why not give it a try?
*MEN'S HAIR CARE TIP: Although many men are used to roughly drying their hair with a towel (especially if it is short), it is best to pat your hair dry. Your hair is more prone to damage when it is wet so rubbing your head abrasively with a towel will damage your hair.
Best Shampoo for Hair Loss
Sadly, hair loss is a condition that many find embarrassing. Although we usually associate it with elderly men, it can happen to anyone at any age. The good news is that there are many hair growth products on the market to help get your healthy hair back. Hair loss is caused by many variables. A change in medication, a medical condition, a shift in your hormones, or an inadequate diet can cause your hair to start to fall out.
There are many shampoos that prevent and even reverse hair loss. Hair growth products have come very far in the methods that they use to stimulate your hair follicles. There are a few ingredients to look for in a shampoo to combat hair loss, such as biotin, caffeine and ketoconazole.
You also want to make sure that the shampoo has proven results and positive reviews, this will ensure that you are not wasting your money on a hair growth product that doesn't work.
As well as the products below, also check out our roundup of the best natural hair growth products.
This shampoo had a blend of hair growth stimulating ingredients like ketoconazole, saw palmetto, and caffeine. These ingredients stay on the scalp until they are absorbed and are not washed away in the shower. It is effective for both men and women. Ultrax Shampoo provides hair follicles with the nutrients it needs to grow thick and healthy.
With ingredients like caffeine, argan oil, and biotin, this shampoo will have your hair looking healthy and your scalp stimulated for growth. This sulfate and paraben free formula is meant to thicken the hair you have while helping to prevent future hair loss. Biotin Hair Loss Shampoo is filled with nourishing oils and other ingredients to keep your hair healthy and shiny. It is also a natural product with no harsh ingredients to damage your hair or scalp.
Summing Up
With all of the shampoos and hair care tips that we have listed, you are sure to find one that will work for your hair type. Just remember to stay away from harsh ingredients like sulfates and silicone, as they are not good for any hair type.
Which shampoo will you be adding to your haircare routine?