Animal Print Is This Season's Hottest Fashion Trend
A constant fashion treasure, from season to season we find that a little bit of animal print is always in style.  Transform any outfit with ease. These prints can add a touch of glamour; a hint of elegance, or slip in a little of your sexy side.
This season, animal print is popping up everywhere. These wild statement pieces were seen on the runways of Prada and Givenchy.
Animal print is also being worn by fashionistas across the social and celebrity spectrum such as Victoria Beckham, models like Gigi Hadid, and our favorite Instagram models
.
This trend is taking over this fall and winter season.
So, how exactly do you get in touch with your wild side without becoming overwhelmed?
There are a multitude of different and fun ways to incorporate this trend into your wardrobe. No matter your style, you can rock animal print.
Keep reading and we will tell you exactly how to wear animal print to compliment your style.
How to Wear Animal Print
Accessorize
Want to dip your toe in the animal print pond? Accessorizing may be your favorite way to pull off this trend.
Adding an animal print accessory will elevate any look. Those that love to wear blacks and neutrals will find adding an accessory to their wardrobe is simple. A little pop of sass to even the most uniform of wardrobes can instantly help you look on trend.
There are almost endless options available to add a little bit of animal print to your look. If you really wanted, you could probably find a way to have a pop in every outfit this season.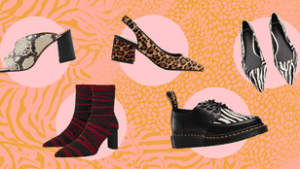 Adding an animal print shoe updates your outfit in a jiffy. Some sneakers, high heels, ankle boots and a pair of flats are essential for your shoe collection.
Other great accessories to try are purses, scarves , and belts.This blanket scarf is perfect to keep you warm as the weather gets colder. A mini cross-body is perfect for weekend adventures and adding leopard print can update any outfit, so I am obviously loving this bag.
Need just the right accessory for your night on the town? Go for this python print clutch.
Full on Animal Print Outfit
Wearing animal print head to toe may sound intimidating, but it is much easier than you think.
Our favorite way? A simple animal print dress. Depending on the cut and style of the dress you can choose from casual, sophisticated, sexy, or whatever fits your style.  This sexy maxi dress is one of my favorites for the winter. 
I am also a fan of this cold shoulder dress.
Keep in mind the dress does not have to be skin tight, it can be flowy. Work with your style and body type. If you like a flowy dress, break it up with a solid belt.
We also love the classic bodycon leopard dress. Pair it with wine red accessories, a faux leather jacket, and oxblood colored lipstick; the perfect date night outfit.  
TIP: If there is a part of your body that you would like to hide or not draw attention to, don't only wear animal print on that part of your body. For example, if you don't want to draw attention to your legs, don't wear leopard print tights with a neutral outfit.
Wear the Wild Prints Like Neutrals
Animal print can be worn in a similar manner as you would wear neutral colors. This means that you can mix animal prints with other prints. For example, leopard works well with polka dots and stripes. Just be sure to space the prints out, one on the top and one on the bottom.
Another way to keep the look balanced, is to layer neutral colored clothes and accessories with your animal prints.
Add Some Color
Wearing color with animal print is another way to elevate this new trend past its old school roots. Check out this adorable pink leopard sweater.
Pairing with neon colors makes a bold statement. Muted tones also look great with animal print.  
Avoid wearing too many accessories with bright and bold prints.
Just try to keep the amount of colors limited to one or two.
Remember, red with animal print looks very sexy. This leopard top is a must have and paired with this red pencil skirt is a perfect outfit for plus size women.
Just Don't Overuse or Abuse
When styling animal prints, use the less is more approach.
Mixing different prints is the "modern trend", pulling this off requires caution, wearing no more than two prints at a time. This will avoid a busy, overwhelming look.
It is also on trend to mix animal prints with different types of fabrics. Try pairing with a studded accent boot or a holographic boot.
Using solid or other non-patterned pieces to balance the prints allow the animal print to be the star of the outfit. Pairing animal prints with your everyday basics makes styling easier.
TIP: Smaller prints tend to look best on those with smaller frames. So, for our shorter fashion lovers, lean more towards prints that are small.
Try combining with a black tee, a camel trench coat, or any denim. This is also a great way to start wearing prints without becoming overwhelmed.
Other Animal Print Things I'm Loving
Here are some other animal print things I have my eye on.
This python sports bra will have you feeling supported and maybe even a little wild while you hold a warrior pose!
This leopard bomber jacket is great for keeping warm this winter.
I love to change up my phone's style. So, why not keep it trendy? Check out this adorable case!
Summing Up
Although animal print may seem scary, it is actually a very easy trend to pull off. Whether you love glamour or like to stick to a casual style there are ways to add these wild prints to any wardrobe. Just remember to stay true to your style and what you like. Animal print is not intimidating; you are in control. Fashion is meant to be fun and these prints are F-U-N!  So enjoy!
Let us know in the comments below if you are going to or already have crossed into the animal print trend this year. Also, tag us in your favorite animal print outfit on Instagram so we can see you strutting your stuff.