Summer is coming! It's that time of year again to wear shorts and get those legs out again! But the last thing any of us want to do is show our winter white pins! We all love that good feeling that tanned skin and a summer glow give us, but is it healthy to expose our skin to the suns damaging rays? I think we can all agree that while it's wonderful to have a tan prolonged exposure to the sun and tanning beds leaves our skin dry, burnt and damaged. It contributes to premature aging and is the leading cause of skin cancer!
THE HEALTHY ALTERNATIVE
The good news is there's an answer! Sunless self-tanning products are the healthy "sunless tanning" alternative, offering perfect coverage for a fast, natural-looking tan every time. There are three main options to achieve this. The first option is a professional salon. 
Most professional salons have walk-in spray tan machines and are very quick and efficient at giving you a wonderful summer glow. However, they lack a personal touch. I prefer a trained technician to give an airbrush tan. This is the second option and if this is not offered at your salon, get the professional to come to you! They will use an HVLP machine to apply the tanning product. Bear in mind that not all HVLP machines are built the same! Professional mobile spray tanners require a machine that is both powerful, lightweight, reliable, and won't overheat with continued use. Here are some of my recommendations for professionals on the go who want to apply a summer tan to their clients.
Pro Series Spray Gun, with stainless steel needle and tip Pro Series Spray Gun Value Package w/ $100.00 of extras FREE! 3 Extra 8oz/250ml Cups w/Lids 3 Extra Cup Gaskets 1 Extra Pick Up Tube 1 Extra Air Tube 1 Extra Needle Spring 1 Extra Duck Bill Assembly 1 Needle Packing Set 1 Bottle of Spray Gun Lube Everything you need to maintain your spray gun for years of service.
NOT MADE IN CHINA
Salon/Mobile Spray Tanning System unit rated for 25 plus applications a day. Very Beginner Friendly on board gun storage Lightweight Mobile design Retractable hidden carry handle Oversized Pop Up Tent
NOT MADE IN CHINA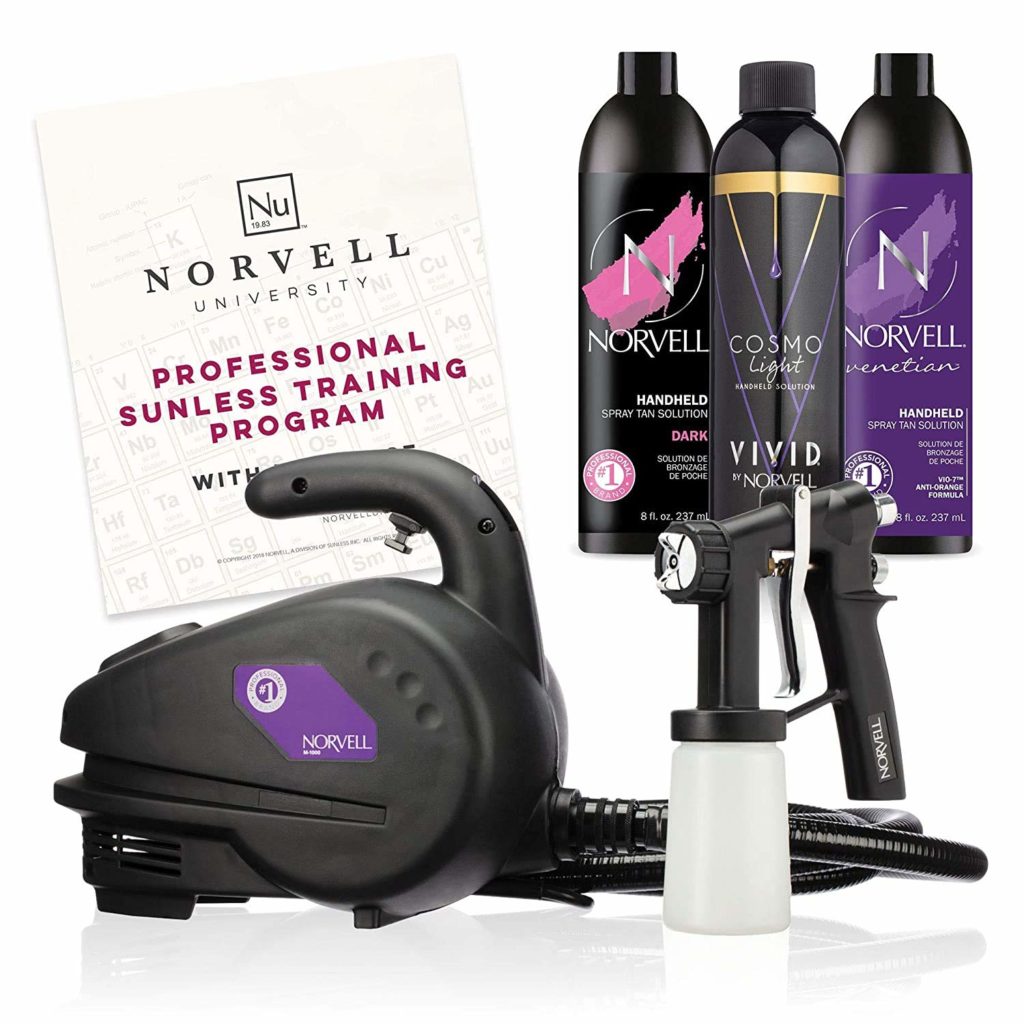 BUNDLE INCLUDES:
Norvell M-1000 HVLP Mobile Spray System; Norvell Tanning Handheld Solutions – Ultra Vivid 'Cosmo Light' 8oz, Venetian 8oz, and Dark 8oz; Norvell Training Program.
Finally, there is the at-home DIY version. Fortunately, there are many products available on the market today that you can use at home and get nearly the same result as going to a professional salon! I've listed some of my favorites below. Remember the most important part of the sunless tanning process is the preparation and the aftercare. Please review our article "How to Prepare Your Skin for A Sunless Tan | Spray Tan Prep and Aftercare" for detailed important advice so that it is easy to achieve the perfect tan every time regardless of whether you go to a professional or fake and bake at home. 
Happy tanning!!